"May you pass the last gate....."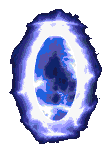 You can download the game by clicking on the download menu and following the instructions on that page. Please note that some systems require more preparation for instillation than others due to lack of legacy support by your operating system. For technical problem solving please visit our community forum at www.aranock.forumotion.net
Once you have configured compatibility settings as requested and listed on the downloads page you may double click on the client to open it. The client face will ask you to choose; a name, a password, a gender and a starting race. Once those details are entered you may press [start] to begin
If your name was already taken the server will automatically assign you one, however you may ask any admin at rank Imp and above can be asked to change your name for you, we can do this once per character only.
Saving your character is important! It does not save your progress as the server handles that however saving your character will create the character file that you need it to play your character!
After you have successfully entered the game, your character is ready to be saved. Exit your character from the game at your leisure (perhaps after exploring) and re-open the client. Now click the client option to [save]. This will create a .moa file.
It is recommended that you save it in the same folder as your game client, it will be easier to find it.
Once a character is saved your free to create more characters by clicking on the [create character] option and re-entering new character details. Please note that Gods can re-send you any most or improperly saved .moa files but it is a long process and your identity needs to be verified by ip checking.
If you have more than one character and you wish to switch to another character, you will have to load your character file. Click the [Load] button. Find the character file which you would like to play and load it.
Aranock has four starter races:
The Templar:

Heavily armored knights full of enthusiasm and valor. Unfortunately, the idea of magic escapes them. They can only master the simplest spells.
The Harakim:

Mighty spellcasters, but their fighting abilities will never match those of the Templars.
The Mercenaries:

Being both, fighters and magicians. The Templars are better fighters and the Harakim better magicians. But the combination of fighting skill and magic makes them dangerous enemies.
The Seyan'Du:

A mighty race of ancient heros. Their numbers are few. You need to solve the labyrinth to join their ranks and you cannot start as one
Please note that there are other, more advanced races available to players who have achieved amazing feats. Players must discover these alone
Graphics update comes in image files format(.png). Or they may come in a zip file. It should contain the image files. To Update you have to unpack the graphics and place them into the "gfx" folder within the game folder directory that holds your client and other operating files. If the folder named "gfx" does not exist create one.
Occasionally you may be asked to install a 'packed' update. This will be a zip file containing files with the following names; gx00.dat , gx00.idx , pnglib.dat , pnglib.idx. Unpack these files from the .zip and instead of placing them in a "gfx" folder copy them directly into the parent folder to 'override' the existing copies of these files at that location.
Please do all updating before starting the client and not whilst the client is open and a live game is in process as this is the safest method. There is facility do do it "live" however by doing the above and then hitting the in-game "refresh" button which is hidden to discourage this. Please ask others where it is once you are experienced.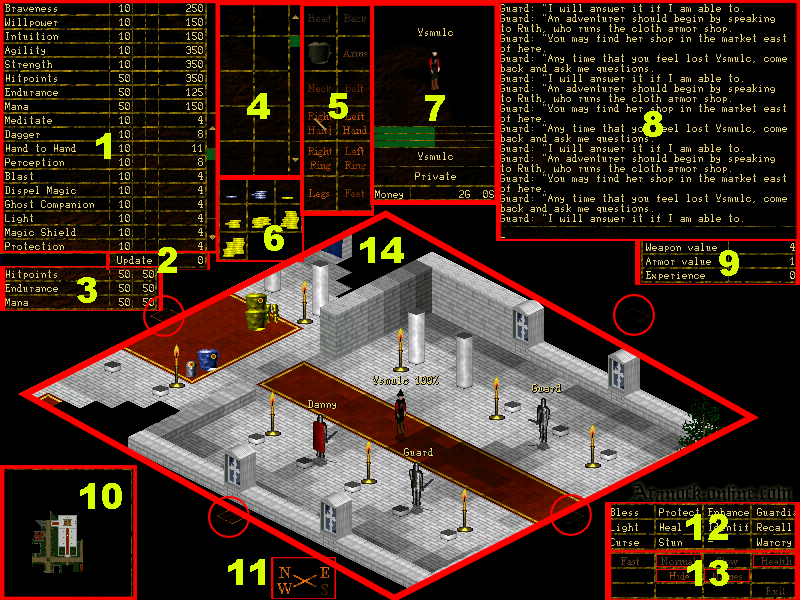 Section One:
The attributes, spells and skills are located in the top left corner. The numbers next to them represent their value but this value is the moderated value (use the spell identify on yourself to gain the true base values for item equipping) When you gain experience points you will see a + next to the skills that can be updated and you can choose to upgrade them. At this stage you can still select the - sign if you change your mind before you press the update button (SECTION TWO) to make changes permanent. Your choice on how to raise these skills determines your characters build
Section Two:
The update button you must press to finalise which skills will be permanently raised by the experience you spend in them. Skills cannot be used at the raised level until update is pressed
Section Three:
The Powers; Hitpoints, Endurance and Mana, are directly below the attributes. Hitpoints are your life force. You are dead should they ever drop to zero. Endurance is needed to run, to shout and to fight and you become exhausted without it. Mana is used to cast magic spells and you cannot cast should this drop to zero
Section's Four, Five and Six:
Backpack, Equipment and Gold respectively. To move an item from your Backpack to your Equipment, hold down shift and click on the item. It will "stick" to your mouse cursor. Now move the cursor to it's destination. You'll notice that invalid slots are blocked (e.g. you cannot use shoes as weapon). Click again (still holding shift) on the slot you want and you've put the item there.
To use an item in the Backpack or Equipment left click on it without holding shift,ctrl or alt. To look at an item, right click on it. The state of shift, ctrl and alt does not matter. Use the coins to take money from your inventory and drop it on the floor or to give it to another character. The coin buttons are 1S, 10S, 1G, 10G, 100G, 1,000G, 10,000G. To get the money back without dropping it, shift-click on your backpack.
Section Seven:
This is your character avatar window, it shoes your name, race and rank and how much Gold you have with you
section Eight
This is the chat window, you can left click in this field and start typing to chat to others. You can type/help here for a list of commands. Typing text and pressing [enter] says it to those in range. Typing /shout before your text and hitting [enter] shouts it to everyone online. Typing /tell [inserting player name] then your message before pressing [enter] whispers it to a player.
Section Nine
Simply lists your 'modified' weapon value, armour value and experience.
Sections en and Eleven:
Section ten is a map of the places you have visited, blacked out areas represent unexplored parts of town. Section eleven is a simple compass which is handy in a variety of circumstances.
Sections Twelve and Thirteen:
Section twelve is a shortcut menu, if you right-click on a skill in section one and then right-click into an empty box in section twelve, the skill is assigned there for quicker use in the heat of battle. Section Thirteen is a toggle menu so that you can toggle the displaying of players health and hide their names, as well as deciding if you want to walk fast or slow. There was once an exit button here but it is now hidden
Section 14:
This section represents the four circles in the picture which represent areas that can be pressed to initiate an auto-walk feature instead of the normal click-to walk
Please note that to exit the game you must enter the back room of a 'tavern' your screen will go blank for a few seconds and your character will enter rest mode when the game exits.
Walking without the auto-walk feature is done by left-clicking on the area of ground you wish to walk too.
Left-click: use item, activate (spells, skills, items) walk
Shift+Left-click: take, drop, pickup, touch. Puts inventory items onto the cursor for use i.e to wear, to trash, to drop.
control+Left click: attack monster, give item (friendly players)
Alt+Left click: select player, npc (open shop window)
Alt+Right click: look, read, get information from the environment such as signs. Look at players and see their avatar information by using it on them.
Basic Commands (typed into the chat field:
/tell [player name] [player message] [enter]: send a private message to one player only.
/shout [message][enter]: shout something so that everyone online can read it regardless of location
/fight: toggle to turn auto-fight back on or off. Sometimes it is beneficial not to attack your attacker too soon
/spellignore: toggle fight back when someone casts a spell on you. Sometimes it is beneficial not to attack your curser to soon
/who: shows in the chatbox a list of all players who are currently online. For some players it will also show a location. Purple players locations are always hidden, and some Game Masters can hide themselves
/time: will display in the chatbox Aranock game time.
/rank: will show in the chatbox how much exp is needed for you to reach your next rank
/help: will show in the chatbox the full list of commands available for players to utilise
When your character is created, he should be in the Temple of Skua of Aranock. Everything is black, hidden. Take a step(left click on a square nearby) and everything will be shown. You have a Armor, a Weapon and 2 Gold in your purse. Prepare yourself for battle, get a full set of protection gears using your 2 Gold. You can buy the basic gears (Cloth Armors) from Ruth, she is in The Market.
The Market is located just East of Temple of Skua.
You should then head to Jamil's House to begin your very first quest.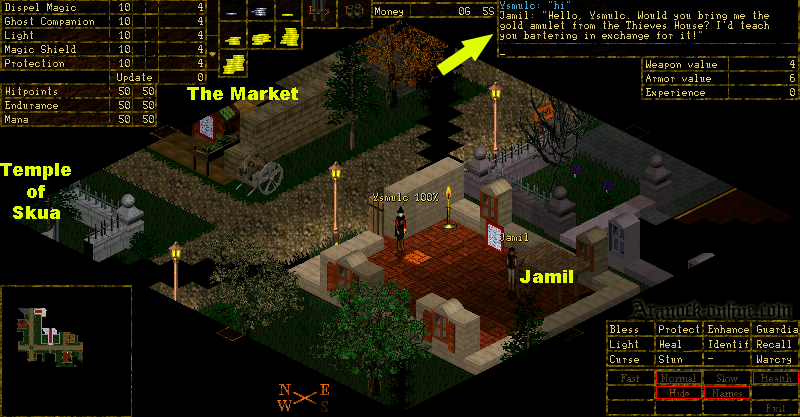 To exit aranock please find a tavern, there are several located around town and even in the Temple of Aranock. Walking into the back area of a tavern will blacken your screen placing your character in rest mode and within a few seconds you will exit game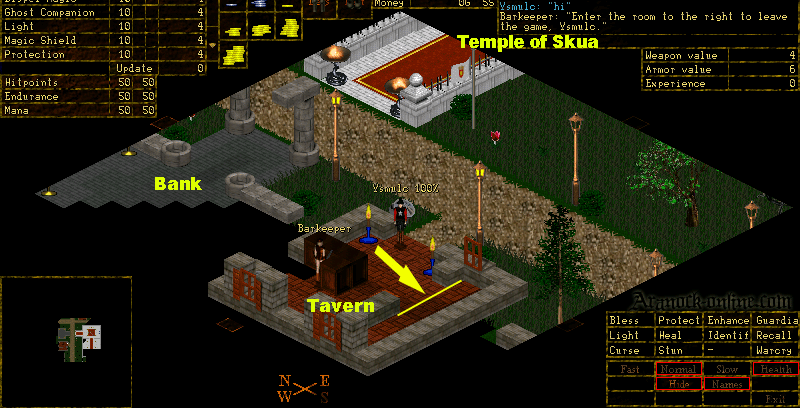 You will enter Aranock as a Mercenary, Harakim or Templar. Your game will start in the Temple of Aranock. There is a good chance that there will be some valuable stuff lying on the ground in the backroom. Take what you need. But do not take more. Other players will want to make use of these resources as well, and their need might be greater.
Once you leave the Temple, you'll be in Aranock. There is a market, a tavern, several dungeons and NPC homes. Enter the backroom of the tavern to leave the game. Your character will "sleep" in safety while you're away and start again refreshed once you connect again.
Visit some of the NPCs to receive quests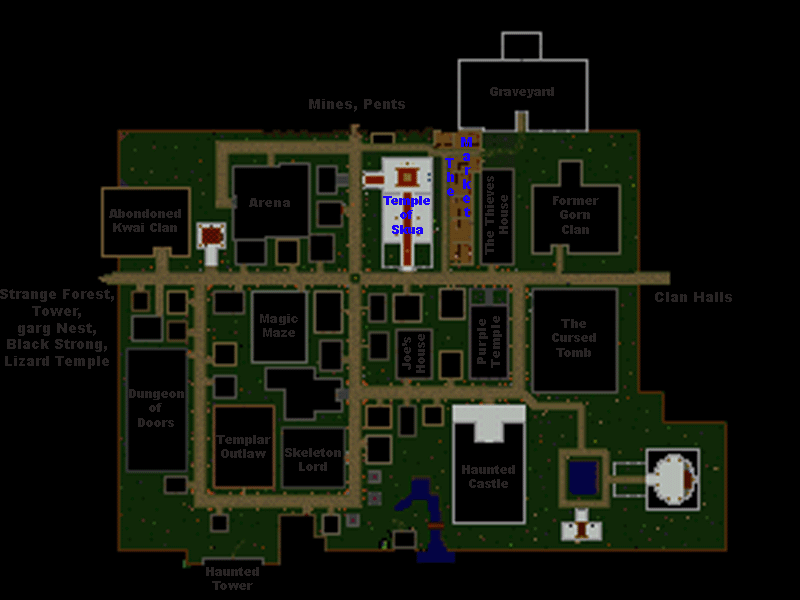 | Experience needed | Rank Rewarded | Adventuring opportunities for this rank |
| --- | --- | --- |
| 0 | Private | Thieves' House |
| 50 | Private First Class | Haunted Castle (be sure to use spells) and look for hidden rooms |
| 850 | Lance Corporal | Cursed Tomb |
| 4900 | Corporal | Joe's House, Haunted Tower, Skeleton Lord (use spells) |
| 17,000 | Sergeant | 1st level of mine, Start of Pentagram Quest, Dungeon of Doors, Strange Forest (stay close to town), Sewers I |
| 48,950 | Staff-Sergeant | 1st part of labyrinth, Dungeon of Doors, Magic Maze, Templar Outlaws |
| 113,750 | Master-Sergeant | Random Dungeon (look before you attack), 1st and some of 2nd part of Labyrinth, 2nd level mine |
| 233,800 | First-Sergeant | 2nd and 3rd part of labyrinth, Sewers II (with a group) |
| 438,600 | Sergeant-Major | 2nd and 3rd part of labyrinth, Sewers II (with a group) |
| 766,650 | Second-Leutenant | 4th part of labyrinth, Possibily 5th |
| 1,266,650 | First-Leutenant | 5th part of labyrinth, 3rd level mine (with a group), other parts of Strange Forest |
| 1,998,700 | Captain | 6th part of labyrinth |
| 3,035,500 | Major | 7th part of labyrinth, remaining part of Strange Forest |
| 4,463,550 | Lieutenant-Colonel | 8th, 9th, 10th, 11th ,12th and 13th part of labyrinth |
| 6,384,350 | Colonel | Gargoyle area of Pentagram Quest. Gargoyle's Nest. Ice Gargoyles |
| 8,915,600 | Brigadier General | Gargoyle area of Pentagram Quest. Gargoyle's Nest. Ice Gargoyles |
| 12,192,400 | Major-General | Gargoyle area of Pentagram Quest. Gargoyle's Nest. Ice Gargoyles |
| 16,368,450 | Lieutenant-General | Gargoyle area of Pentagram Quest. Gargoyle's Nest. Ice Gargoyles |
| 21,617,250 | General | Gargoyle area of Pentagram Quest. Gargoyle's Nest. Ice Gargoyles |
| 28,133,300 | Field Marshal | Gargoyle area of Pentagram Quest. Gargoyle's Nest. Ice Gargoyles |
| 36,133,300 | Knight of Aranock | Venture where no player has (yet) gone before!. When the chips are down and true heroes are needed, you will want to be here to save Aranock. |
| 349,014,500 | Baron of Aranock | Venture where no player has (yet) gone before!. When the chips are down and true heroes are needed, you will want to be here to save Aranock. |
| 63,000,600 | Earl of Aranock | Venture where no player has (yet) gone before!. When the chips are down and true heroes are needed, you will want to be here to save Aranock. |
| 80,977,100 | Warlord of Aranock | Venture where no player has (yet) gone before!. When the chips are down and true heroes are needed, you will want to be here to save Aranock. |
To equip items, Take(shift + left click) a Armor/Weapon, it will then be On Hand/On Cursor. Then Drop(shift + left click with item on hand) it on the correct spot in the Equipment section of the CGI (section 8: please see overview of game GCI)
You can equip into slots: Helmet, cloak, armor, sleeves,amulet,belt,weapon (or items i.e torch), rings, leggings and boots
Flowers and flasks can make certain types of potions. To make a potion, take(shift + left click) the ingredient On Hand, then use(left click) on the Empty Bottle.
If you meet a merchant, look at him (alt right click) to open a shop window. Once the window is open, drop items in it to sell them (shift click on the item in your inventory, then click in the shop window). You can look at items in the shop by right clicking on them. To buy something, left click on it. You can close the shop window by clicking on the X in the top left corner of the shop window or by pressing ESCape.
The default target for a friendly spell is yourself. The default target for an offensive spell is the enemy attacking you. To target someone else you have to [alt+left-click] on them until they are highlighted green.
Before you decide to attack somebody, there are some rules to know: Whatever you do will affect your alignment. Killing good people makes you bad and vice versa. Be especially careful in town: It is a very evil act to kill a shopkeeper and this will have a very adverse effect on your luck.
Should you ever receive a fatal injury, your luck will determine whether you die or are saved by the Gods. Lucky can be gained by donating any item to the golden shrines around town. The more valuable the item the greater the luck
If you are saved by the Gods, you will be snatched out of danger and deposited, complete with your equipment and money, in the Temple of Aranock. You will lose a lot of your luck, so it becomes less likely that you will be saved again.
If you are not saved, then you will die and a grave will appear at the location of your death, and your equipment and money will be in the grave. Your body will re-incarnate, unclothed and empty-handed, in the Temple of Aranock.
If you manage to reach your grave within 15 minutes, you can retrieve your possessions. Your death also causes the loss of 10% of any hit points you may have previously gained from experience.
As a Purple(in game name), you can Pvp(Player vs Player), with another Purple, almost everywhere in the Game unless the fight occurs in fake death area like Arena, Purple fights are Real Death. Real Death is similar to getting killed by a monster. There is a chance where your grave will appear with all your items inside it.
The player who killed you have access to your grave
Type /who, the Player Names with a " * " after their names are Purples. Their location are not displayed in the list.
To become Purple, go to Purple Temple, South of The Thieves House and Kill the Priest. Then your character will automatically become a Purple. To undo this you have to go through a period of pennance, and only after a long period of no player vs player killing will Skua consider taking you back into the light
Luck is a measure of how well you are liked by the Gods. Luck helps determine if the Gods save you from otherwise certain death in battle, and many other things as well. Your luck gets used up if the Gods save you, and deteriorates if you perform evil acts, such as killing good NPCs, or anger the gods in some other way.
You can improve your luck by making generous offerings to the gods at their altars in the Temple of Aranock and elsewhere. The Gods' idea of a generous offer depends on your rank, so don't be surprised if the pittance you gave as a private angers them coming from a Captain. You will find out how the Gods are inclined to you when you make a donation. If they are pleased with you (not just your last offer!), they will save you in need.
When you first start playing, the Gods give you the benefit of the doubt and grant you enough Luck for two salvations from death. If you use up this divine favor, staying on good terms with them is up to you.
You can also gain luck by participating in Game Master led events
All citizens of Aranock are driven by a strange desire to explore the Labrinth. The Labrinth is a vast building consisting of many, many gorges. Each gorge contains a gate which leads to the next gorge. But before you can enter that gate, you will have to defeat that gorge's danger. The last gorge is rumored to have a gate to a long abandoned city which contains riches and magic beyond imagination. Other rumors say, that the Seyan'Du live behind the last gate. Maybe both rumors are true...
There is a code of conduct in the Labrinth that can be read in our terms and conditions section.
Note on Base Attributes: Each skill and spell is based on three of the Base Attributes. The actual skill/spell level is calculated by adding the Base Attributes and dividing them by five (and adding the skill of course):
Final_skill_level=(base1+base2+base3)/5+raw_skill_level+magical_modifiers
Braveness:
Base Attribute, used by almost all skills and spells.
Willpower:
Base Attribute, used by all spells.
Intuition:
Base Attribute, used by all spells.
Agility:
Base Attribute, used by most fighting skills, also increases speed (movement and fighting). Required minimum for weapons and armor.
Strength:
ase Attribute, used by all fighting skills, also increases speed and damage done when fighting. Required minimum for weapons and armor.
Some skills you will begin with, others are gained after completing town quests. right clicking on a skill brings up a description of it in the chat box
A full list of skills will be made available soon.
Some spells you will begin with, others are gained after completing town quests. right clicking on a spell brings up a description of it in the chat box
A full list of skills will be made available soon.
| Armor Type | Strength Required | Agility Required | Armor value Gained |
| --- | --- | --- | --- |
| Cloth | 1 | 1 | 1 |
| Leather | 12 | 12 | 2 |
| bronze | 16 | 16 | 3 |
| Steel | 24 | 24 | 4 |
| Gold | 40 | 40 | 5 |
| Emerald | 56 | 56 | 6 |
| Crystal | 72 | 72 | 7 |
| Titanium | <90 | 90 | 9 |
Please Note that some spells such Enhance Weapon will temporary increase the Weapon gain from each weapon type, and some spells such as Bless, or skills such as bravery can temporary increase; Strength, Agility and Weapon values making it appear that you meet the requirements when you do not
The spell 'identify' can be used on items and on yourself. When used on yourself it can overcome weapon compatibility problems because it will display both your true skill level and your modified skill level
| Dagger Type | Strength Required | Agility Required | Dagger Skill Required | Weapon Value Gained |
| --- | --- | --- | --- | --- |
| Bronze | 1 | 1 | 1 | 4 |
| Steel | 8 | 12 | 15 | 8 |
| Gold | 10 | 16 | 30 | 12 |
| Crystal | 14 | 24 | 45 | 16 |
| Titanium | 18 | 30 | 60 | 24 |
Please Note that some spells such Enhance Weapon will temporary increase the Weapon gain from each weapon type, and some spells such as Bless, or skills such as bravery can temporary increase; Strength, Agility and Weapon values making it appear that you meet the requirements when you do not
The spell 'identify' can be used on items and on yourself. When used on yourself it can overcome weapon compatibility problems because it will display both your true skill level and your modified skill level
| Sword Type | Strength Required | Agility Required | Sword Skill | Weapon Value Gained |
| --- | --- | --- | --- | --- |
| Bronze | 8 | 8 | 1 | 8 |
| Bone | 12 | 12 | 10 | 12 |
| Steel | 16 | 12 | 15 | 16 |
| Barbarian | 18 | 10 | 18 | 18 |
| Gold | 32 | 16 | 30 | 24 |
| Stealth | 40 | 20 | 28 | 25 |
| Crystal | 48 | 28 | 45 | 32 |
| Titanium | 56 | 32 | 60 | 48 |
Please Note that some spells such Enhance Weapon will temporary increase the Weapon gain from each weapon type, and some spells such as Bless, or skills such as bravery can temporary increase; Strength, Agility and Weapon values making it appear that you meet the requirements when you do not
The spell 'identify' can be used on items and on yourself. When used on yourself it can overcome weapon compatibility problems because it will display both your true skill level and your modified skill level
| Two Handed Type | Strength Required | Agility Required | Two Handed Skill Required | Weapon Value Gained |
| --- | --- | --- | --- | --- |
| Bronze | 12 | 10 | 1 | 12 |
| Steel | 25 | 20 | 15 | 24 |
| Gold | 40 | 30 | 30 | 36 |
| Lava | 50 | 35 | 38 | 42 |
| Crystal | 65 | 40 | 45 | 48 |
| Burning | 68 | 45 | 52 | 60 |
| Titanium | 75 | 50 | 60 | 72 |
| Ice | 90 | 65 | 75 | 80 |
Please Note that some spells such Enhance Weapon will temporary increase the Weapon gain from each weapon type, and some spells such as Bless, or skills such as bravery can temporary increase; Strength, Agility and Weapon values making it appear that you meet the requirements when you do not
The spell 'identify' can be used on items and on yourself. When used on yourself it can overcome weapon compatibility problems because it will display both your true skill level and your modified skill level